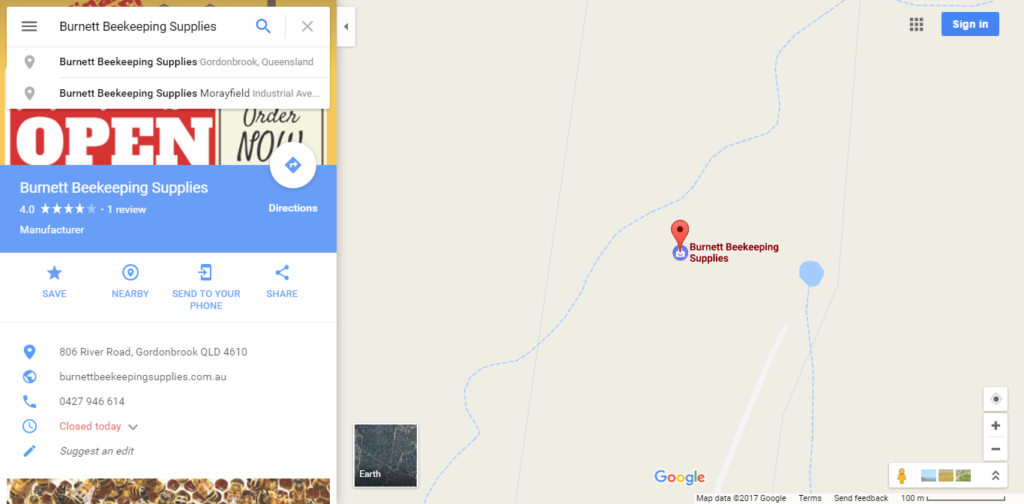 Hello again!
We've been getting some feedback that you are finding it hard to locate our shop from Facebook. Sadly, that's because they don't have the correct Google Map!
To make it simple, there's a couple of different ways you can find us and we've outlined them here:
First and easiest is to head over to our Contact page. We have all of our contact details there, as well as a convenient Google map. Just click on the map from your phone and your phone GPS will give you directions from where you are!
Using the Google Maps App or Google Maps in your Browser
If you have Google Maps installed on your phone, open the app and search "Burnett Beekeeping Supplies".
The list of suggestions will show you two options: Kingaroy (River Road) and Morayfield (Industrial Avenue).
Tap on the address to see where the shop is.
Tap on the blue car icon to start your phone GPS and follow the directions.
You will get the directions from your current location (if you have location services ON).
Downloadable Map for Morayfield
Download an easy PDF to print out the directions to Burnett Beekeeping Supplies Morayfield.
Finding our main shed at Kingaroy
From the Toyota Corner roundabout, head out River Road (between Kingaroy Equipment Sales and United Fuels, locally known as Ryke's Fuels).
Travel for approximately 7 kms and on the RIGHT you will see our sign on the gate at 806 River Road.
Give us a call
Of course, you can always give us a call if you're having trouble.
Current Opening Hours for Morayfield are:
Monday to Friday – 9am to 4:30pm
Saturday – 9am to 12pm
Phone – 0484 598 580
Current Opening Hours for Kingaroy are:
Monday to Friday – 8.30am to 4:30pm
Phone – 0427 946 614