Beekeepers throughout the Burnett will now have the opportunity to come together as a group with the possibility of forming a local Beekeeping Club.
David Horton, owner of Burnett Beekeeping Supplies said, "We have had a lot of our local beekeepers say they would like to see the area have a beekeeping club."
"The club would help promote beekeeping and assist new beekeepers by providing hints, tips and guidance. Our current professional and amateur beekeepers have shown they would like a club but simply haven't had the spare time to organise one," said Mr. Horton.
---
"At Burnett Beekeeping Supplies, we have clubs from all over South East Queensland come to our manufacturing plant as a beekeeping club outing. We have seen first hand how forming a local club really does help beekeepers," he said.
Burnett Beekeeping Supplies manufacture quality timber beekeeping products and are based 10 minutes out of Kingaroy.
Mr. Horton said "We are happy to help facilitate the forming of a club by holding an open day for our professional and amateur beekeepers and anyone who is thinking about beekeeping in the future."
The Beekeeping Club Open Day will be held at 806 River Road, Kingaroy on Saturday 13th September.
Mr. Horton said "We will open our gates from 9am for people who would like to look through our manufacturing plant. There will be a free sausage sizzle for beekeepers at 12pm and we'll look at holding our first club meeting at 1pm."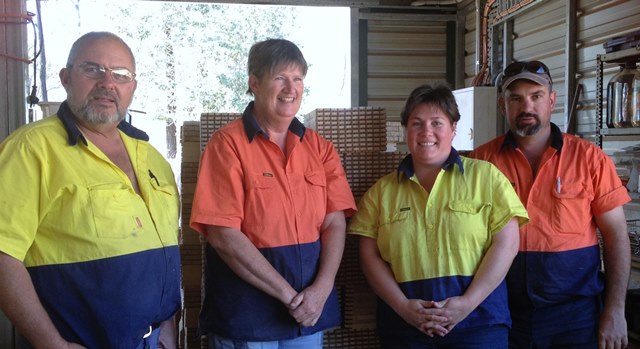 From left: David Horton, Gaye Jarvis, Sonya Horton and Bruce Horton
"We will start up our plant and do some live demonstrations of our timber manufacturing during the morning. One of our local beekeepers will also do a talk about beekeeping and we will have information packs for those who are starting out as beekeepers," he said.
If you are interested in beekeeping or currently beekeeping and would like more information about the Beekeeping Club Open Day, phone David Horton on 0429 130 167 or (07) 4162 3606 or email bbeesupplies@bordernet.com.au.