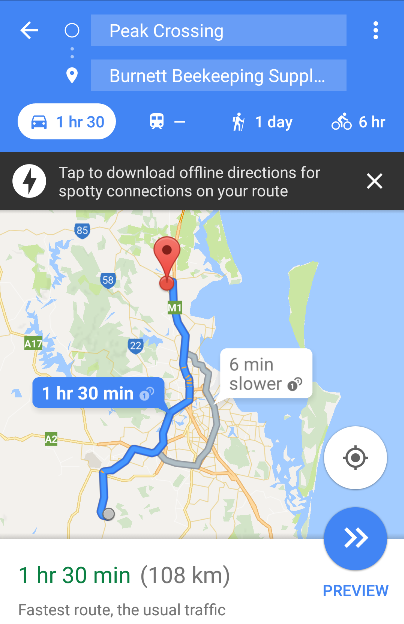 Once again, we're quite excited to be attending the Annual Ipswich West Moreton Field Day this Sunday at Peak Crossing, Ipswich! It will be held at Peak Crossing School from 9am this Sunday 12th March. You can find out more about the day on their website http://www.honey.org.au/field-day/.
A few of our customers have let us know that our Morayfield shop has been quite the challenge to find, so we thought we'd make this post about the different ways you can get to our stores.
Contact Us
First and easiest is to head over to our Contact page. We have all of our contact details there, as well as a convenient Google map.
Google Maps
If you have Google Maps installed on your phone, open the app and search "Burnett Beekeeping Supplies".
The list should show you two options: Kingaroy (River Road) and Morayfield (Industrial Avenue).
Tap on the Industrial Avenue address to see where the shop is.
Tap on the blue car icon to start your phone GPS and follow the directions.
You will get the directions from your current location (if you have location services ON).
Our Version of Google Map Directions
Download an easy PDF to print out the directions to Burnett Beekeeping Supplies Morayfield.
Briefly, from Ipswich way:
Head North on the M1 towards Sunshine Coast
Use left lane take exit 152 for Lower King St towards Caboolture
Continue straight on Lower King St (signs for Caboolture)
At the roundabout, take the 1st exit and stay on Lower King St
Turn left onto Morayfield Rd (State route 60)
Turn left onto Industrial Ave
Shed 9B down the end on the left is where you'll find Katelyn or Norm.
Of course, you can always give us a call if you're having trouble.
Current Opening Hours for Morayfield are:
Monday to Friday – 9am to 4:30pm
Saturday – 9am to 12pm
Phone – 0484 598 580